Posted: 10/09/19

"Pivi Pro integrates seamlessly with your vehicle."

Technology should be seamless – in your home and car – and ready to go whenever you are. Pivi Pro1, our all-new infotainment system features a fast start-up, so by the time you take your seat, it's ready to go.

The smartphone-like interface is the star of the show. Pivi Pro's flat menu structure makes finding the features you want and need as straightforward and intuitive as using your smartphone.
Its new navigation system also learns and adapts as you use it, providing a more personal experience.

A customisable home screen

Pivi Pro's new home screen is focused on providing the right information – such as directions and traffic information – when you need it, along with direct access to the features you use the most.

Setting your destination is quick and easy with one tap of the screen. You can access your favourite and most frequently used features from the home screen.

When you first use Pivi Pro, you'll find it set up for navigation, entertainment and phone, but you can easily customise this to your personal preference and requirements.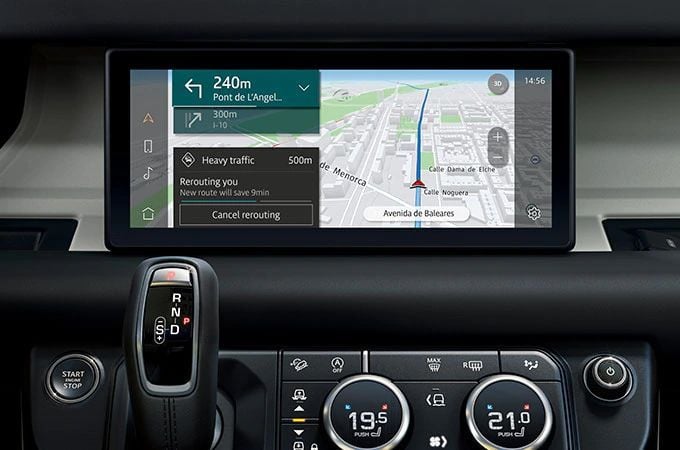 Navigation
You'll find no traditional menus in Pivi Pro's navigation system
1
. We've done away with tapping on list after list of buttons before you can set your destination. Instead, everything is directly accessible with just a tap of the Touchscreen. Pivi Pro also:
• Lets you pinch and zoom the map just as you would on your smartphone
• Adapts and makes recommendations based on your preferred routes
• Shows you a traffic summary and estimated time of arrival for your regular destinations
• Uses voice guidance for unfamiliar routes. Voice guidance is muted automatically for regular routes
• Suggests the fastest routes for your commute through real-time traffic information and dynamic routing
• Displays en route fuel prices, parking availability and suggests places of interest/places to eat along your journey
Stay connected
With a mobile data connection and the Online Pack, you can access even more.
• Stream your music and podcasts through Online Media connected services
• Reviews and ratings for suggested places of interest from your local community
• Sync your Google and/or Outlook Calendar
• Access live weather updates with AccuWeather
• Use additional features such as parking apps
• Connect to your favourite apps easily via email or by scanning a QR code
• Voice commands with natural language integration for supported languages.
• Wi-Fi enabled with data plan gives you up to 20GB/month
2
of 4G data through the built-in SIM card and the external antenna, providing you the best possible connection
• Interact with your car through the Remote App
• Be alerted and track your vehicle in case of theft with Secure Tracker or Secure Tracker Pro